Video & Audio Tapes to DVD/CD Conversion
In-Lab express audio cassette tape to CD & video VHS tape to DVD transfer and conversion services
COVID-19 NOTICE:
Due to the situation, the services will be provided by appointment once the COVID-19 quarantine is lifted.

All digital audio & video tape/record conversion and vinyl record transfer services
AZ Photo Scanning provides a wide range of audio and video transfer and conversion services in-lab. Call AZ Photo Scanning at
321-236-0341
for a quick video conversion or audio transfer service quote.
All orders are fulfilled on-premises, which means we are able to save our customers time and money by offering the following services:
8mm, digital 8, MiniDV and VHS Tape to DVD transfer services
Digital video files to DVD and Blu-Ray transfer services
Audio cassette to CD or MP3 transfer services
Vinyl LP records to CD or MP3 transfer services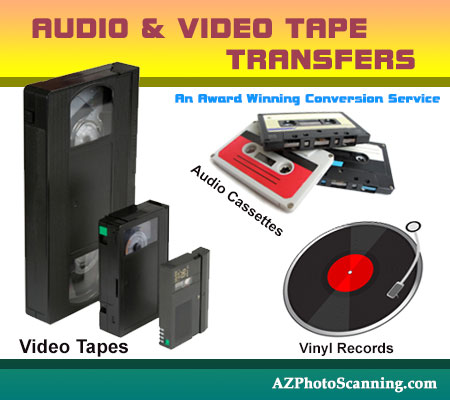 For video to DVD and audio cassette tape to CD transfer services email or call our Orlando, FL Orange County digital transfer services lab at 321-236-0341

Tape to DVD Transfer Services

Digital transfer services from various tape media to DVD or CD media requires specific equipment to preserve the quality of the original video tape footage. We have the necessary equipment to produce the digital tape to DVD transfers that do preserve the maximum quality available on video tapes
We can transfer the following video tape formats to digital format:
Standard VHS video tapes
Long play VHS video tapes
Video Camcorder VHS-C video tapes
Professional S-VHS video tapes
Video camcorder MiniDV video tapes
Sony Video camcorder digital8 video tapes
Video camcorder 8mm video tapes
Digital camcorder video files
The video footage is generally transferred to DVD format, however, we can also convert the digital video into any other format if required.
All DVD video transfers feature 5-minute chapters for easy video playback manipulation. We provide DVD video discs that last long time and can optionally print titles and graphics directly on the DVD video discs.

Audio Cassette Conversion and Vinyl LP records Transfer Services
Audio cassette tapes can contain up to 90 minutes of audio tape recording. Each side of audio cassette tape generally runs anywhere from 30 to 45 minutes. Converting audio cassette tapes to digital format or to digital audio CD requires a professional audio playback deck to achieve the best possible results. Vinyl LP records are also a sensitive medium and to transfer these to a digital format requires a properly tuned and balanced LP record player to achieve a maximum vinyl LP record playback quality.
We can transfer any analog audio cassette tape recording or vinyl LP record to a CD or MP3 format while preserving the original quality of the recording.
While digitizing audio cassette and vinyl records recording, we can also provide the following audio enhancement services:
Remove excessive audio tape recording noise
Enhance audio levels
Enhance dynamic range of audio tape and vinyl records (LP) recording
Apply equalizing audio filters to improve on the quality of playback from the digital audio transfer
Remove the gaps from the audio cassette tape recordings
Apply audio compression to enhance recording of audio speech recordings

For digital audio tape to CD, Vinyl LP record to CD/MP3 and VHS to DVD conversion services email or call our Orlando, FL Orange County digital transfer services lab at 321-236-0341

Digital Video & Audio Conversion Service Area
Our digital media conversion, photo and slide scanning lab is conveniently located in Orlando, Florida and in the moderately close proximity of the following - Aloma, Altamonte Springs, Apopka FL, Apopka FL, Azalea Park, Belle Isle, Bithlo, Buena Ventura Lakes, Cambell, Casselberry, Casselbery, Celebration FL, Christmas FL, Christmas, Chuluota Florida, Clermont, Cloud, Cocoa Beach, Cocoa FL, Cocoa, Conway, Davenport, Doctor Phillips, Eatonville, Edgewood, Fairview Shores, Fairvilla, Fern Park, Goldenrod, Gotha, Hiawassee, Holden Heights FL, Hunters Creek, Kissimmee, Lake Buena Vista, Lake Butler, Lakeland FL, Lockhard, Lockhart FL, Longwood Florida, Maitland, Meadow Woods, Melbourne, Merritt Island and Cocoa Beach, Mims, Narcoossee, Oak Ridge FL, Oakland, Ocoee, Orlando FL, Orlando Florida, Orlando International Airport, Orlando, Orlo vista, Oviedo, Oviedo, Paradise Heights FL, Pine Castle FL, Pine Hills, Port Saint John, Rosemont FL, Sanford, Sky Lake, South Apopka, St. Cloud, Tildenville, Titusville FL, Titusville, Union Park, University Park FL, Windermere FL, Windermere, Winter Garden, Winter Park, and Winter Springs FL.

For scanning and conversion orders outside of local area, we offer a convenient express mail-order service and optional next-day delivery service.