Slide scanning services
35mm slide scanning to CD and DVD services – same day service on most orders
COVID-19 NOTICE:
Due to the situation, the services will be provided by appointment once the COVID-19 quarantine is lifted.

35mm slide scanning - all IN-HOUSE and FAST
At AZ Photo Scanning we process, scan and convert 35mm slides to digital format on premises. This helps you, the customer, to receive an excellent, quick turnaround service that guarantees the safety of your 35mm slides. We do not ship the slides anywhere and all film materials stay at our slide scanning facility the whole time. Please call us at 321-236-0341 for a quick slide scanning quote.
Our slide scanning service features the following:
24-hour service on all slide scanning orders under 200 slides.
35mm slide scanning to CD media
35mm slide scanning to DVD disc and DVD Video disc
Slide scanning to removable storage devices
Slide scanning to most popular digital files such as jpg, jpeg, tiff, bmp, pdf and other digital file formats
CD slideshows from 35mm slides
DVD video slideshows from film slides
We also provide photo scanning services and tape to DVD/CD transfer services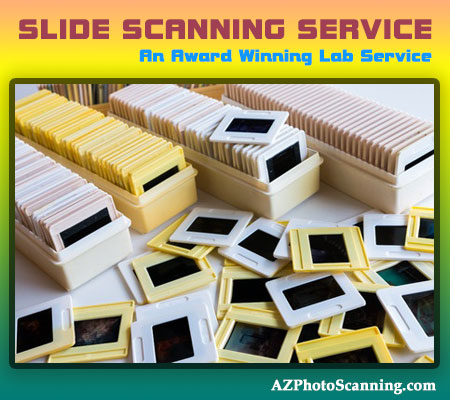 For 35mm slide scanning services email or call our Orlando, FL Orange County digital transfer services lab at 321-236-0341

Professional 35mm Slide Scanning Service

35 Slide Scanning is our specialty. We have been providing enhanced quality 35mm slide scanning services since 2003 and have gained the necessary experience and knowledge about film slides to deliver excellent quality that preserves the images in their natural form.
Once the 35mm slides are scanned into digital slide format, we processed them for contrast, gamma and brightness to restore faded film images. Once the gamma quality is enhanced, all film slides are processed for color tonality and are saved into a jpeg, jpg, tiff, bmp or any other format required.
We scan film slides and deliver them on any medium necessary, such as a CD, DVD or portable USB thumb drive storage.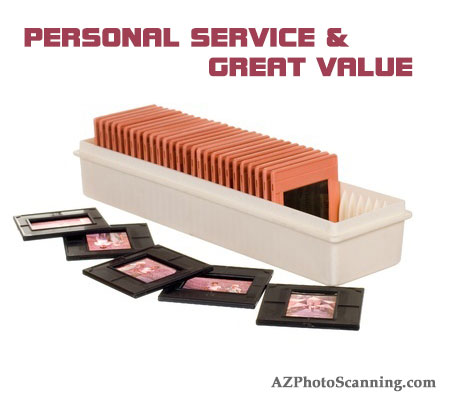 For film slides scanning service email or call our Orlando, FL Orange County digital transfer services lab at 321-236-0341

High quality slide scanning equipment and expertise
AZ Photo Scanning is a professional photo studio that knows how to handle fragile slide films and get the best quality from the digitizing process.
Your 35mm slide films are handled by professional photographers that know how to get the best digital images out of old 35mm film slides.
All slide scanning orders go through a carefully designed process to ensure total customer satisfaction.
35mm photo film slides are carefully examined for defects and scanned with optimal digital scanner settings
A professional photographer evaluates the raw scanned images and applies specific digital imaging filters to preserve image color and latitude
Scanned film slides can be further enhanced and/or optionally restored by a film restoration specialist to give a new life to a film photograph
Film slides can be optionally scanned in a preferred order for easy sorting and ease of use
Digital Slide Scanning Service Area
Our digital media conversion, photo and slide scanning lab is conveniently located in Orlando, Florida and in the moderately close proximity of the following - Aloma, Altamonte Springs, Apopka FL, Apopka FL, Azalea Park, Belle Isle, Bithlo, Buena Ventura Lakes, Cambell, Casselberry, Casselbery, Celebration FL, Christmas FL, Christmas, Chuluota Florida, Clermont, Cloud, Cocoa Beach, Cocoa FL, Cocoa, Conway, Davenport, Doctor Phillips, Eatonville, Edgewood, Fairview Shores, Fairvilla, Fern Park, Goldenrod, Gotha, Hiawassee, Holden Heights FL, Hunters Creek, Kissimmee, Lake Buena Vista, Lake Butler, Lakeland FL, Lockhard, Lockhart FL, Longwood Florida, Maitland, Meadow Woods, Melbourne, Merritt Island and Cocoa Beach, Mims, Narcoossee, Oak Ridge FL, Oakland, Ocoee, Orlando FL, Orlando Florida, Orlando International Airport, Orlando, Orlo vista, Oviedo, Oviedo, Paradise Heights FL, Pine Castle FL, Pine Hills, Port Saint John, Rosemont FL, Sanford, Sky Lake, South Apopka, St. Cloud, Tildenville, Titusville FL, Titusville, Union Park, University Park FL, Windermere FL, Windermere, Winter Garden, Winter Park, and Winter Springs FL.

For scanning and conversion orders outside of local area, we offer a convenient express mail-order service and optional next-day delivery service.