321-236-0341
/
Contact Us
/
132 East Colonial Drive, Suite 220a, Orlando FL 32801
/
Photo & Slide Scanning services provider since 2003
Document scanning & digital document conversion service
Professional document record scanning and conversion services, Orlando, FL
Document scanning - IN-HOUSE, fast turnaround
AZ Photo Scanning offers no-minimum order quick and secure business and private paper documents to digital format scanning and conversion services on premises in Orlando, FL. We guarantee quality and turnaround times for all document scanning and document file processing for digital storage projects.
All documents, medical and scientific films and records that are delivered to our facility remain at our location at all times and are not shipped anywhere for document and film scanning service.
Please call us at 321-236-0341 for a quick document scanning quote.
Our document and business records scanning and storage service features the following:
1 to 24-hour service on short run documentation scanning orders.
Fast Document to CD scanning service
Document to PDF, JPEG and online storage digital format scanning
Uploading scanned and films documents and records in PDF or JPEG file formats to digital USB storage devices and online remote file storage services
Digital document conversion services to most common file formats compatible with PC and MAC computers and portable computer devices
Paperless office chronological document file naming and automatic digital file sorting
We also provide high quality photo scanning services and video tape to DVD and CD conversion services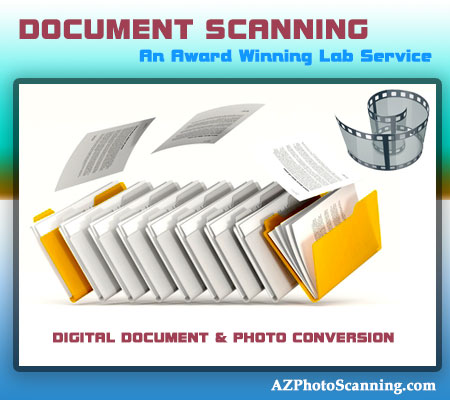 For Document scanning services email or call our Orlando, FL Orange County digital transfer services lab at 321-236-0341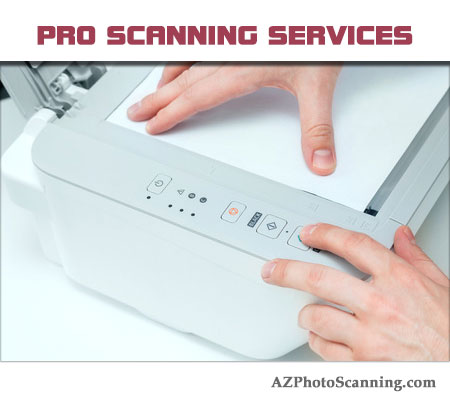 For business records scanning service email or call our Orlando, FL Orange County digital transfer services lab at 321-236-0341

High quality and fast turnaround digital document conversion and expertise
AZ Photo Scanning is a professional digitizing service provider that has been scanning various times of films and documents for government, private sector organizations and consumers.
All of our scanning processes are optimized to deliver high quality business record documents scanning to prepare for digital archival routines.
All document scanning procedures are handled by professional scanning techs to ensure proper handling, quality and security of information digitized.
We daily handle document scanning projects from various sectors, including but not limited to:
Accounting documents
Billing relation documents
Company correspondence
Patient correspondence and records
Medical records, films and 35mm x-ray negatives
Legal documents
Financial records
Large format and technical illustration composites
Charts, diagrams, photo slides, oversized drawings
Additional document scanning service information
We make every effort to maintain the confidentiality of customer data. Our streamlined document digitizing process is used by various organizations from Orlando, FL and throughout the US. We're conveniently located in the center of Orlando, FL with easy access to document, photo and film scanning facility.
Our services are cost-effective and we can offer significant document and photo scanning service discounts for large volume projects such as:
Document Conversion
Litigation support for electronic data Discovery, digital record managements and file numbering for database utilization
Medical records scanning
Paper and document scanning and image normalization

Document Digitizing Service Area
Our digital media conversion, photo and slide scanning lab is conveniently located in Orlando, Florida and in the moderately close proximity of the following - Aloma, Altamonte Springs, Apopka FL, Apopka FL, Azalea Park, Belle Isle, Bithlo, Buena Ventura Lakes, Cambell, Casselberry, Casselbery, Celebration FL, Christmas FL, Christmas, Chuluota Florida, Clermont, Cloud, Cocoa Beach, Cocoa FL, Cocoa, Conway, Davenport, Doctor Phillips, Eatonville, Edgewood, Fairview Shores, Fairvilla, Fern Park, Goldenrod, Gotha, Hiawassee, Holden Heights FL, Hunters Creek, Kissimmee, Lake Buena Vista, Lake Butler, Lakeland FL, Lockhard, Lockhart FL, Longwood Florida, Maitland, Meadow Woods, Melbourne, Merritt Island and Cocoa Beach, Mims, Narcoossee, Oak Ridge FL, Oakland, Ocoee, Orlando FL, Orlando Florida, Orlando International Airport, Orlando, Orlo vista, Oviedo, Oviedo, Paradise Heights FL, Pine Castle FL, Pine Hills, Port Saint John, Rosemont FL, Sanford, Sky Lake, South Apopka, St. Cloud, Tildenville, Titusville FL, Titusville, Union Park, University Park FL, Windermere FL, Windermere, Winter Garden, Winter Park, and Winter Springs FL.

For scanning and conversion orders outside of local area, we offer a convenient express mail-order service and optional next-day delivery service.